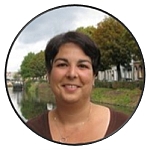 Welcome! I am a researcher with an eye (or two) on imaging.
My current work involves evaluating the image and video quality of medical imaging devices. I'm interested in vision science, technology assessment, and image processing.
I am a PhD candidate in the Image Processing and Interpretation (IPI) group (an imec research group), TELIN department at Ghent University in Belgium. As of May 2020, I also work part-time as a Coordinator/Finance Specialist at IPI-imec.